Happy birthday.
Happy birthday my Online family.
Happy 1-year Anniversary. Time really flies.
Happy Birthday EliteaffiliateHacks.com
Why I'm I celebrating?
I started my very first website in 2015.
Instead of giving you my 2016 Year in Review that you are used to with other websites, I will share my story at this Time of the year.
What is Your Driving Force?
---

When you ever think of giving up, Always remember the reason you started in the first place. What were your goals when you started.
Could it be:
The job that you hate?

Lack of money doing the things you love?

Paying your bills and shopping in your favorite malls without straining?

A dream of wearing expensive designer clothes and jewelry?

Lack of time to travel the world?

Going on vacations any time you want?

Dating the hottest chicks?(Our goals are different!)
You will have to remember.
Success doesn't happen Overnight but you must remember why you started. Ops! I have stressed that enough.
You have all reasons to be Happy!
Fight for your happiness.
Everyone loves money. Including our grandmothers!
My happiness comes from positive feedback I receive from folks that I help along the way.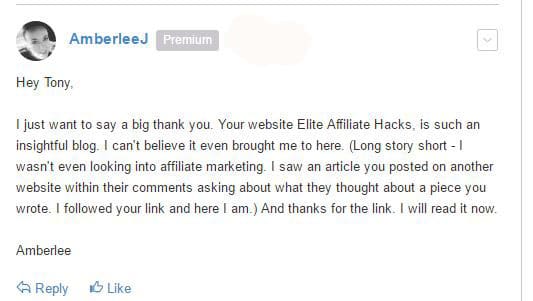 The money would mean nothing to me if I help no one!
My Crazy Story
---
When I started this website, I was not sure of the direction to follow.
I never even had my own laptop and could not afford to buy data to keep me online full-time.(Hint: Used FREE resources available to everyone around me)
It was slightly after I was a freshman in college that I started. If you have been there you know how life can get tough at times. You need money for rent, food or even may be a bit of fun.
So, you have no reason not to start right now. Be ready to make mistakes here and there but you'll be glad you did!
My website had a completely different name when it started.
I knew I could make money online but did not know exactly how.
So, I continued blogging thinking that I was moving in the right direction. Boy, I was wrong. I spent around 6 months earning very little from the site.
At times, I thought of giving up and call it all quits but thanks to my online family that always encourage me and raised me up again.

If you are curious, you can check this post and see the name of my website back then.
Note: In the post above I also explained how you can move your website from one Domain to another and keep your rankings.
A little help: If you experience technical errors navigating my site, do let me know.
My Main Challenges Along the Way
---
To make it, you must always have challenges. I know I have failed a couple of times but used my failures as stepping-stones and lessons that will teach others. I hope I'll help even just ONE Person today!
1.Content
A website without traffic is doomed!
I was hard for me to create content on a daily basis. In fact, in the year, I created less that a 100 post and pages(Including pages like privacy policy, income disclaimer and contact us)

Honestly, I did very little in content creation. There is a time I created only 2 posts in 7 WHOLE months.(That's not a joke)
Imagine how much money I could get if I created more content to attract more traffic?
2. Resources
I never had my own computer.
The free resources were not reliable. Today internet, tomorrow no internet. I think you understand.
Maybe you have a computer and a 24/7 internet. Man, you are sitting on Gold.
3. Money
This is HUGE!
Although you can make money without spending much money, you steal need money.
I needed money for hosting, autoresponder, some premium plugins and so on.
If you cannot afford money for rent or food, don't start an Online Business as it is a venture that requires plenty of investment and effort.
Fair Warning: Don't use business money for personal things. Don't get me wrong. That is your money and you have the right to use it but make sure a certain percentage is invested back to grow your business. This applies to any type of Business.
Happy Valentine!
Whew!
I got you.
The last valentine is when I bought EliteAffiliateHacks.com.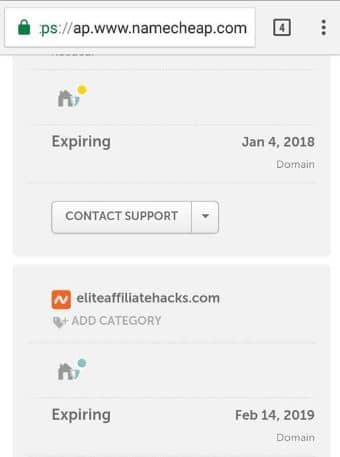 So, this website is only one-year young.
I have added two more years to it to serve you guys.
Most Loved Content!
My main goal is to help you guys start thriving online Businesses or if you are an affiliate to make more commissions to get those fat paychecks.
There is are important pages that are a must to any affiliate website:
Start here page should give first-time visitors the ability to start from where they are at the moment. This page tries to solve problem commonly found. This could be traffic, Creating content that people loves or starting a business from a scratch.
The resource page includes best of Internet marketing resources. Don't recommend junk products for the sake of a buck. Trust is very important.
Blog Post
There are some posts that have attracted floods of traffic since they were created. Have a look and remember to share and comment.
NOTE: Some stats don't show since I switched from HTTP to https
Achievements
---
A lot has happened since starting this website. Here are just a few.
EliteAffiliateHacks.com Landed a guest post from a fun. Thank you for your content!(You can contact me if you want to guest post here with "Guest Post" as the subject)
Content that would get through easily
Case Studies

Tutorials

Ultimate Guides

Infographics[Backed up with rich content-Link and to this site(and logo) in the resources]

Expert Roundups

Interviews
Side Note: I don't Pay Guests. This is for your own exposure and also give you a share of my traffic.
I have so many page one Google rankings for highly competitive keywords.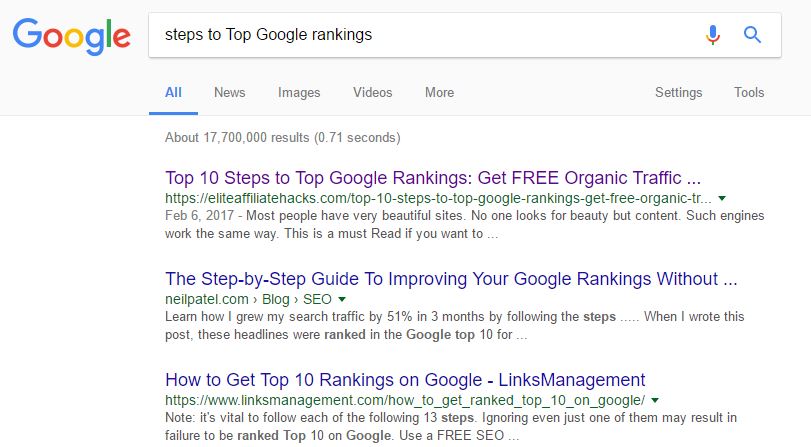 I was once featured in an expert round-up on the best programs to start a business. In addition, OPF Kit also took an Excerpt from my review and used them in the testimonial area. See pictures below.

Check out the Review of OPF kit here.
Shout Out: If you think my website is worth a mention or a link, don't hesitate. I'll be glad to reach newer people.
My traffic is going well by now and growing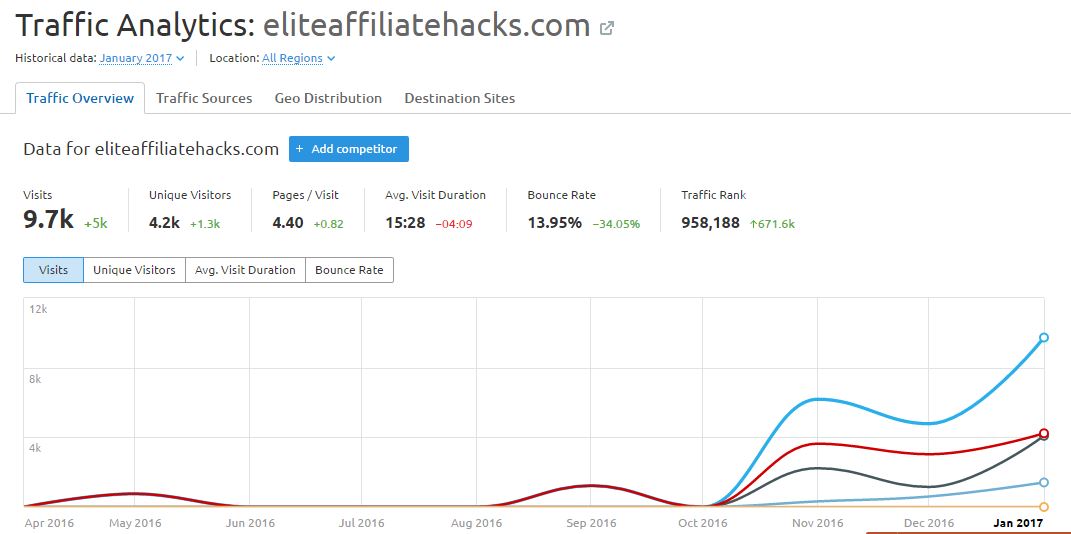 Ownership
A website is an asset that appreciates with Time. By now, I already own several domains.
You can buy yours here and start building your business today.
Money
How could I talk about my achievement without talking about money?
I wanted it to be almost the last thing.
As you may already know(or not), I don't really like talking about money publicly. But how do I show you that I actually make money? 
The Feeling
This is BIG!
It gives me the energy to remember where I came from.
This energy gives one a supernatural sprint to be successful online!
My first big paycheck from one affiliate site(I promote several) was $791.07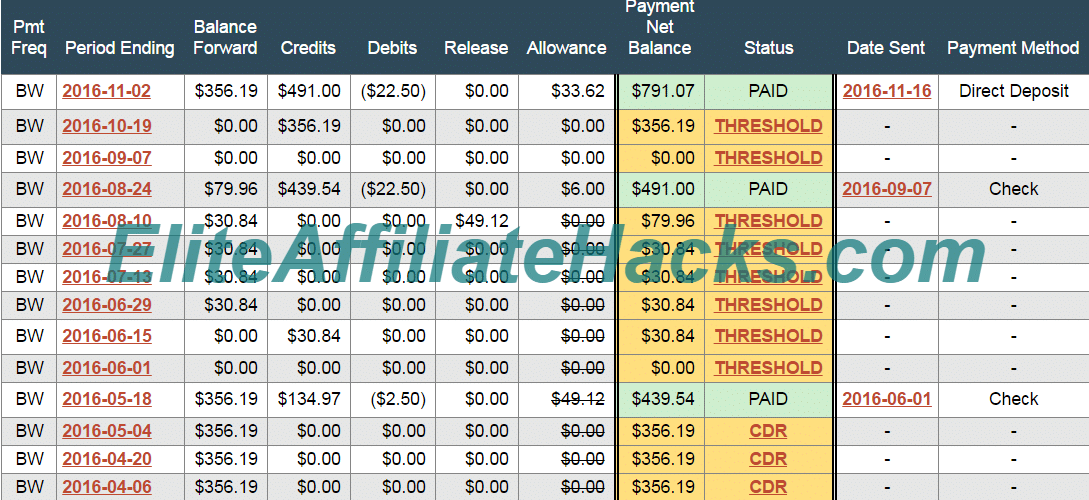 I know.
It may not be much to you. Mind you, it's only from one affiliate account.
When I logged into my account I was so happy. My heart throbbing, hands sweating and that look of disbelief on the screen. Could it be real?
Obviously, it was real because I could withdraw it. I cannot forget the feeling at the ATM waiting for it to count all the money.(Not the single sound most of us are used to)

I love valentine!
Way Forward
I'm looking forward to producing top-notch content for you guys.
You will not have to worry about thing to do with traffic, content creation or making more commissions as an affiliate.
In my resource page, you will find the best of online marketing tools and resources. I have discounted Most of them for you or offer free Trial. Make sure to check them out here.
If you want to start an Online business or take your existing business to the next level, check out wealthy Affiliate for $19(59% discount here) Check out a review here.
I Appreciate You!
Thanks for your support.
You Own EliteAffiliateHacks, I manage it. Let me know what you would want to see on this website now or in the future.
Remember to share!
The Sky is the Limit,