Welcome to my unbiased review of Global domains international in 2020. Chances are that you have received an invitation from a friend either through email or social media. Want to know if it is legit or a scam? Read my entire review. Let us now put things on the table.
Name    :  Global Domains International
Website:  http://website.ws
Price     : $10/month, Free for 7 days
Owners: Michael Starr & Alan Ezeir
Rating  : 75 out of 100
Verdict: Recommended
What is Global Domains International?
---
Global Domains International seems to have a positive reputation since it has been around since 2000 even before the start of the wealthy affiliate and Affilorama which are now the best training for anyone who wants to make money online.
GDI is a domain registry service provider just like namecheap.com. In NameCheap, you can purchase a .net, .com, .org etc. GDI offers a .ws website. ".ws" is a domain code for Western Samoa. Here is an example, For united states, you get a ".us"
Apart from .ws domain extension, you can buy any other extension like a .com, .org, .net etc
Allan and Michael have partnered with the Samoan Government to offer the domain registration service to the world.
Apart from providing domain registry service, there are also services like email forwarding, site builder tools, and other web hosting services.
How many websites ending with ".ws" have you seen is google? Not that many. I will cover that too…
Look:
Where else will you get all those services for $10? Only on GDI
Enjoying What You Are Reading?
Subscribe to get our Latest content and Subscribers ONLY Tips by email.
Taking an Inside Look to GDI – The Opportunity
---
This is the most important part that interests most people.
Can you really make money with GDI? My answer is yes, GDI offers real services. This has been the Only MLM that I have reviewed that does not need high investment to make money or take part in the affiliate program.
Some programs like Empower Network cost up to $5000 to get all the benefits of the program. For as low as $10/ month, you get both a website and Hosting. Here are added benefits if you sign up for the program:
7 Day Free Trial to the Program( Auto- Billing after That)

A website builder.

A ".ws" domain.

Domain hosting with 100MB storage of your ".ws" domain.

10 custom email addresses. Eg youname@yourwebsite.ws

Participate as a distributor and Earn commissions and weekly bonuses.
The affiliate program is simple to understand. You only need to sign up for the program then GDI does the marketing for you. However, you need to have a huge email list for GDI to help you in marketing.
You get paid $1/month for any referral as long as they stay as paid members. This is not as easy as it may seem. You need to get over 10 active referrals to be into profit in a month. You need to work hard and pay, Success is NEVER Free.
Forget about the $1 per referral.
You get paid $25 learning bonus as you complete the learning process.
It gets more interesting. For every 5 referrals, you refer in a week you get paid $100. Interesting eh!
The GDI Compensation Plan
---
I must agree that the compensation plan is easy to follow and understand. However, the payments are low. Here is a summary:
No Limit on all your referrals on level one.

$1 for Every referral that remains a member.

10 % payments up to level 5.
To sincere with you, $1 per sign up is little compared to what you will be doing. Think about it for a moment, it takes the same time and effort to promote a program that pays you $1 as well as that which pays $100. The Compensation plan is a turn off to most affiliates. But with the bonuses, some are making a killing out of it.                                        
What I liked about the compensation plan is the bonus. Everyone like a bonus, I like them too. If you make 5 sales in one week, you are given $100 bonus. This is kind of motivation to affiliates.
The Affiliate program is only for paid affiliates, unlike affiliate marketing which is free to join.
Enjoying What You Are Reading?
Subscribe to get our Latest content and Subscribers ONLY Tips by email.
GDI Pros Vs Cons
---
Pros:
Starting the program is affordable.(only $10)

Awesome services for businesses.

20 Χ Bonus. Make 5 sales($5) get $100.

A cheaper way to get a domain, hosting and domain-specific emails.

Beginners friendly.
Cons:
Low commissions. $1 is a very low commission.

".ws" websites are not SEO friendly.
Like any other MLM company, Global Domains International is no different. You depend on your downline to make "residual income". The larger your team is, the higher your earnings. I was once with a large team and on top of a pyramid!
Global Domains International Pricing.
---
The start-up cost is low. There are only 2 main packages. The basic membership is $10 while the premium membership is $40. Most people prefer to start with the basic membership to proof if the system works.
But is there any difference or it is just a waste of time?

Of course, there is a difference. The payment cannot be the same as well as the services. If you need more services or money, you may need to sign up for the premium membership.
Here is a table showing the difference between basic membership and premium membership.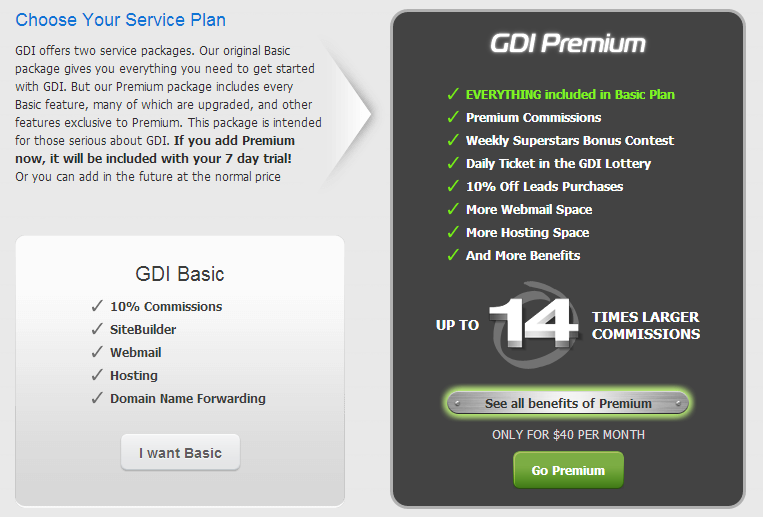 Basic is more personal while the premium is for business-minded people.
But What is Your Take on a "Ws" Domain Name?
---
You may ask. To be sincere, Global Domains International is Cheap. A domain like EliteAffiliateHacks.com costs $12/year from namecheap.com. Apart from that, I pay for hosting and other services for the domain. Website builder, domain, hosting and email in GDI is worth $10.
The downside of Global Domains International…
Have you ever seen a "?Ws" website ranked on the first page of google results? Free websites like Blogspot, WordPress even rank better than ".Ws" websites. Think about it and see the best option for you.
Is Global Domains International a Scam?
---
To be honest, GDI is not a scam. Even if I am not a fan of MLM, I will be sincere with you. You can make full-time income using opportunities like these. The main reason why most people fail in MLM is they think that they will make millions in less than a year. That is how the MLM industry is tainted. You need to work hard buddy and take time!
Apart from being patient, you need to be ready to be a leader as you always depend on the efforts of your downline. If you lack a mentor or invited by an amateur, the road will be so rough. There is no way a blind will lead a blind.
My Sincere Advice to You
---
Affiliate marketing needs education, tools, and support. If you lack any of these, you will be struggling and spending more than you make. You are better than than buddy. You should focus on profits and not losses.
If you are not experienced or you do not have a mentor in mind, give GDI a miss! In my experience, most MLM companies do not have built-in training. The team leaders have to build training for their downline for them to make more residual income.
This is my first MLM to Promote on this website. The main reason is that I have got a mentor whom I met on my super affiliate journey. Join our team and you'll get the guidance you need.
Global Domains International at a Glance
---
Name    :  Global Domains International
Website:  http://website.ws
Price     : $10/month
Owners : Michael Starr & Alan Ezeir
Rating   : 75 out of 100
Verdict  : Affordable services quality services
Thank you for taking the time to read my Global Domains International Review in the year 2020. I would love to hear from you if you had any previous experience with GDI. Positive, negative or even your own review about the program. Share with us.
Be Sociable, Share!